Lifestyle System Packages
TrūIQ Lifestyle Systems were created to assist you in achieving the healthy lifestyle you desire. Some people are striving to gain muscle, where others are looking to lose weight. There are those who are looking to harness more focus and creativity, while others are looking for sustained energy throughout the day. And for some, relaxation and a more restful night's sleep are the goal, while others are hoping to improve gut health.
No matter where you are on your wellness journey, TrūIQ has a Lifestyle System to assist you in making your good life, your great life. With some of the most complete and balanced nutritionals on the market today, combined with the purest essential oils, and all-natural body care products, we have the perfect System to help you reach your health and fitness goals. A healthy lifestyle requires both an internal and external wellness approach. TrūIQ offers the best of both worlds, and by choosing one of our Systems, you will save a minimum of 10% off your purchase. Start your wellness journey today!
These statements have not been evaluated by the Food and Drug Administration. This product is not intended to diagnose, treat, cure, or prevent any disease.
Focused Energy
$105.30
USD
$117.00 10% Discount
Focused Energy
• Core
• Mental Clarity Oil Blend
• Body Lotion
Smartship
$79 USD
$117.00 (32% off retail)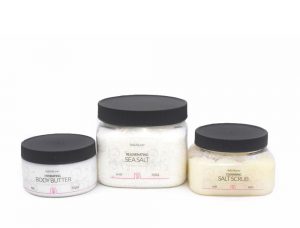 Foot Care
$65.25
USD
$72.50 10% Discount
Foot Care
• Hydrating Body Butter
• Rejuvenating Sea Salt
• Cleansing Salt Scrub
Smartship
$49 USD
$72.50 (32% off retail)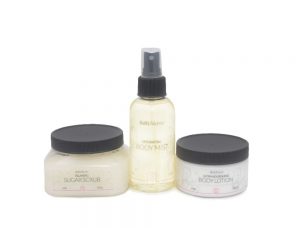 Hand Care
$67.05
USD
$74.50 10% Discount
Hand Care
• Relaxing Sugar Scrub
• Hydrating Body Mist
• Ultra-Nourishing Body Lotion
Smartship
$50 USD
$74.50 (32% off retail)
Immune Boost
$216.00
USD
$240.00 10% Discount
Immune Boost
•Amazon PowerBlend
• ImmuGuard Oil Blend
• Balance Pre/Probiotic Drink
Smartship
$162 USD
$240.00 (32% off retail)
Muscle Build
$160.20
USD
$178.00 10% Discount
Muscle Build
• Velocity
• Whey Isolate Protein
• Deep Relief Oil Blend
Smartship
$120 USD
$178.00 (32% off retail)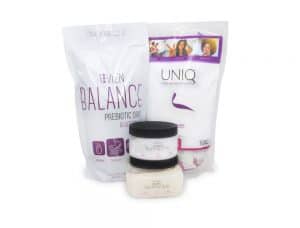 Skin Health
$185.85
USD
$206.50 10% Discount
Skin Health
• Balance Pre/Probiotic Drink
• UNIQ Beauty Drink
•  Hydrating Body Butter
• Relaxing Sugar Scrub
Smartship
$139 USD
$206.50 (32% off retail)
Stress Relief
$156.15
USD
$173.50 10% Discount
Stress Relief
• Rejuvenating Sea Salt
• Amazon PowerBlend
•  Deep Tranquility Oil Blend
Smartship
$117 USD
$173.50 (32% off retail)
Total Body
$132.30
USD
$147.00 10% Discount
Total Body
• Ultra-Nourishing Body Lotion
• Hydrating Body Butter
• Hydrating Body Mist
• Relaxing Sugar Scrub
• Cleansing Salt Scrub
• Rejuvenating Sea Salt
Smartship
$99 USD
$147.00 (32% off retail)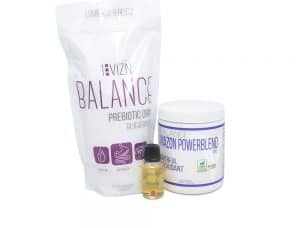 TrūCleanse
$208.80
USD
$232.00 10% Discount
TrūCleanse
• Amazon PowerBlend
• Balance Pre/Probiotic
•  BodyPür Blend
Smartship
$156 USD
$232.00 (32% off retail)
TrūGlo
$136.80
USD
$152.00 10% Discount
TrūGlo
• Balance Pre/Probiotic
•  UNIQ Beauty Drink
Smartship
$102 USD
$152.00 (32% off retail)
TrūHealth
$244.80
USD
$272.00 10% Discount
TrūHealth
• UNIQ Beauty Drink
• Balance Pre/Probiotic
• Amazon PowerBlend
Smartship
$183 USD
$272.00 (32% off retail)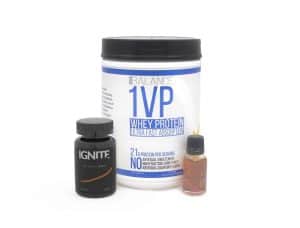 Weight Loss
$157.05
USD
$174.50 10% Discount
Weight Loss
• Ignite Burn Product
• Whey Isolate Protein Powder
• WeightAbate Oil Blend
Smartship
$117 USD
$174.50 (32% off retail)